HTC Thunderbolt has specs leaked-are they too good to be true?
31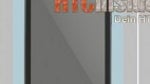 HTC Inside reported a leaked set of specs for the HTC Thunderbolt, the phone that is expected to be Verizon's first 4G handset. The specs came from a slide that was leaked and revealed a dual-core 1.2GHz Snapdragon processor (MSM8960) under the hood. Elsewhere on the phone, a 5MP front facing camera is on board along with an 8MP rear camera. The microSD slot allows memory to be expandable up to 132GB and an 1800mAh battery powers up the device. Before your head spins around and you start to drool from your mouth, the odds favor that this report is false.
While it would be great if this device sported dual-core processing power, if you recall, the specs that
came out with the device
the other day specifically made note of the fact that the Thunderbolt was
not
coming to market with dual-core processing power. Furthermore, while the MSM8960 was displayed at the 2009 CES, the processor is not expected to begin testing until the middle of next year. It would require a miracle for this 28nm processor to be ready in time to be placed in a phone being introduced next week. While we already
reported
that Qualcomm had started shipping two 1.2GHz dual-core chipsets (MSM8680, MSM8260), so far the company has not released a clock speed for the MSM8960 further revealing a hole in the HTC Inside report.
As we get closer to the CES next week, speculation about high profile devices like the HTC Thunderbolt will increase until finally the truth comes out. What specs would you like to see on Verizon's first 4G handset?
Speaking of the CES, we will be in Las Vegas bringing you hands-on reports about all of the hot new handsets and tablets that have been keeping you up at night. After that, it is right back to work at the MWC in Barcelona in February!
source:
HTCInside
(translated) via
AndroidandMe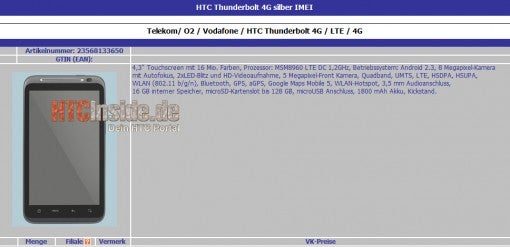 The specs for the HTC Thunderbolt on this data sheet appear to be too optimistic