HTC Sense head says custom UIs still add value to Android 4.0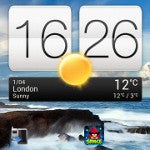 A lot of people prefer stock Android over the various custom launchers and other tweaks that OEMs add to differentiate their phones. Yet HTC Sense has at times had as many devotees as detractors. In an interview with Laptop, HTC's head of Sense development Drew Bamford provided some
insight
into where he thinks OEMs can still
add value
and places where Sense can still use some improvement.
Not surprisingly, Bamford feels that
Sense 4.0
adds a lot of usability, in particular citing their many custom widgets (the time and weather widget being an icon Sense), as well as their custom email client and browser (not everyone will share Bamford's assessment of those last two features). He also stressed the importance of usability – in particular labeling every control on the phone so that novice users will have a shorter learning curve if an HTC Android device is their first smartphone.
Bamford admitted that HTC had gotten a bit carried away with 3D transitions and other eye-candy in previous versions of Sense, referring to them as "disorienting", although mostly reviewers just noted that the transition effects could sometimes create stuttering on phones with even the burliest of specs.
One other area that Bamford sees as important is naturally branding – he says that by creating a unique "HTC branded" experience that is consistent across all their phones they hope that customers will ask for an HTC phone rather than simply asking for Android and then asking a sales rep which is the best one. It's hard to fault a company for wanting to create this sort of differentiation, but it's important to note that this goal, while laudable, is also what gets OEMs into trouble, when they start to change things simply for the sake of branding, rather than putting users' interest first.
One thing is clear though; Bamford is pleased with Sense 4.0, and despite Google's efforts at
creating a more distinctive design personality
for Android, we won't be seeing the death of OEM UI customization anytime soon.
Source:
Laptop
via
Engadget