HTC Sensation XE Hands-on
41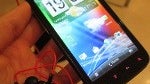 The
HTC Sensation
is still one of the best phones on the market so why are HTC already releasing a follow-up only months after its launch? Well it's got something to do with the sweet sound of music and its ability to generate what many refer to as "ka-ching!". What are we talking about? Of course, it's the partnership between the Taiwanese manufacturer and
Beats Audio
. To herald this new line of musically geared phones, HTC has souped up its flagship sprinkling red accents around the handset. The grill above the screen, the capacitive buttons below and the camera on the reverse are all tinted rouge. This
HTC Sensation XE
isn't just beefed up in the aesthetics department. HTC has clocked the handset to a melodic 1.5GHz dual-core and have amped up the battery to a cool 1750MAh.
All this Beats Audio talk would stand for nothing if it didn't translate into an enhanced music experience, so rest assured, the HTC Sensation XE not only ships with Beats Audio ibeats in ear buds, but is also optimized specifically for them. In fact, plug in the supplied headphones and the Beats Audio logo magically appears in the notifications bar to let you know that you're having a premium audio experience. Don't like what you hear? Fret not, simply uncheck the Beats Audio option and you'll get back to your standard HTC output, complete with optional SRS audio enhancement.
The rest of the phone is predictably similar to the HTC Sensation, 4.3" qHD Super LCD screen, four capacitive buttons below, 8GB of internal memory and HTC's trademark solid build quality. Given the HTC Sensation being such a solid phone, the prospects for the HTC Sensation XE are looking good. We should be getting a review unit in the coming weeks, so keep an eye on
PhoneArena.com
for a review and our verdict on the first HTC Beats Audio device.