HTC Sensation 4G Specs Review
12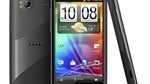 The
HTC Sensation 4G
will undoubtedly be one of the top Android phones to get this year in the US, at least until the holiday season, so let's examine if HTC has managed to create a compelling argument of a phone on paper.
Design
No matter how you slice and dice it, we've now allowed only powerful phones with large displays to occupy the top slots of the Android food chain. There is no argument that the HTC Sensation 4G is exactly such a device, that is why it is very important how the designers stroke a balance between making a phone comfortable to hold, and still cramming a big, shiny screen together with all those high-end bells and whistles that are now staples for Android's best.
Luckily, with HTC we are mostly aware how the Sensation 4G will feel. The company is known to produce somewhat hunky handset with large displays, but it usually manages to translate the word "heavy" into "solid", when you actually hold the device.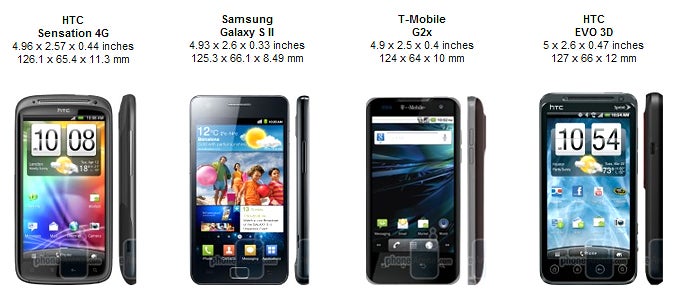 You can compare the HTC Sensation 4G with many other phones using our
Size Visualization Tool
.
As is clearly seen from the size comparison above, the HTC Sensation is larger and heavier than some of its main dual-core competitors. We'll leave the design to personal preference – when we handled the
Samsung Galaxy S II
it was almost uncomfortably thin and wide, but very light, and still we prefer our phones with large screens this way, rather than "solid", bordering on bulky. Still, single-sheet aluminum body beats plastic and soft-touch plastic as choice of materials any day, so some might find the HTC Sensation 4G's exterior preferable.
The display on the HTC Sensation 4G is a first for the company, with the newfangled qHD resolution (540x960 pixels), which is just a step below the iPhone 4's Retina Display pixels, and is 4.3", which makes it one of the largest phone screen with qHD resolution, together with the HTC EVO 3D. Moreover, HTC boasts that it has a true widescreen 16:9 format.
We loved the display when
we handled the HTC Sensation
at the CTIA 2011 show last month, moreover, it has another unique feature under its belt – its Gorilla Glass is contoured for added protection:
One connectivity feature that only the HTC Sensation 4G, and the Samsung Galaxy S II phones have so far, is the MHL port (Mobile High-Definition Link), which combines the microUSB and HDMI-out ports in one. HDTVs and other gear with support for MHL will start shipping this year, so you won't benefit much from it right now. Here's a nice presentation of MHL that will answer all your questions about this upcoming cable connectivity standard:
Recommended Stories