HTC One uses dual membrane microphones, promises superior audio recording
19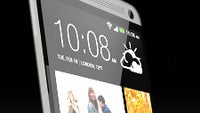 That all high-end smartphones can capture great high-definition video is something we're pretty sure about. When it comes to capture audio, however, not all handsets are capable of delivering stellar results.
To make sure the new
HTC One
does not disappoint in that aspect, its maker has equipped it with a pair of high-quality microphones capable of capturing both high and low sound pressure levels equally well. How does that happen? Well, through the use of dual-membrane mikes, the kind of which you aren't likely to see on other smartphones. One of the membranes is highly sensitive in order to record even the faintest of sounds. That could be quite useful, for example, when you're recording someone's speech. The other microphone membrane is made for high volume levels, which means that it will capture even the sound of a rock concert. The two signals are mixed together and the result is a clean, dynamic sound free of distortion or crackling noises.
But that's just one of the many cool things about the HTC One. To learn more about what makes the smartphone stand out of the crowd, make sure you read our
HTC One hands-on
.