HTC One mini 2 vs Moto G vs LG G2 mini: specs comparison
7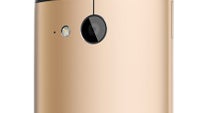 The
HTC One mini 2
has just gotten official, and it's an all-around nice upgrade from the original HTC One mini, but how does it compare against the competition?
First, let's talk about the specs of the One mini 2 itself. Under its gorgeous aluminum hood lies a Qualcomm Snapdragon 400 system chip with a quad-core Cortex-A7-based processor running at up to 1.2GHz along with 1GB of RAM. The Snapdragon 400 system chip lies right in the mid-range, it's a farcry from the top performing 800 series, but it's surprisingly decently snappy and will run even more intense games (but with less detail).
The competition? We looked for the two other important Snapdragon 400 devices out there - the
Motorola Moto G
and the
LG G2 mini
. The Moto G is one of Motorola's biggest successes in recent years, since it packs such good hardware at an extremely affordable price. In pure specs, it's completely on par with the one mini 2, but in price the difference should be huge. Then comes the LG G2 mini. The Snapdragon 400-powered LG has the same chip, but a disappointingly low-res display - its 4.5" screen is of qHD (540 x 960-pixel) resolution only.
The next hugely important factor in specs is the camera. Gone are the UltraPixels from the
HTC One (M8)
, and gone is the Duo camera. Instead, HTC goes with a very sensible, high-res 13-meagpixel camera with a BSI sensor and an f/2.2 lens on top. You'll see what the competition brings in the table right below, but before we leave you with it, it's worth mentioning that the HTC One mini 2 also packs dual speakers on the front. This is a bonus no other mid-range phone delivers, and it's also to remind you that not all can be seen in specs.
But a lot can, and that's why you should see who wins in this cold-blooded spec battle right below.
Scratch-resistant glass, Ambient light sensor, Proximity sensor
Ambient light sensor, Proximity sensor
Proximity sensor
Qualcomm Snapdragon 400
Qualcomm Snapdragon 400
Qualcomm Snapdragon 400 8226
Quad-core, 1200 MHz, ARM Cortex-A7
Quad-core, 1200 MHz, ARM Cortex-A7
Android (5.0 Lollipop, 4.4.4, 4.4.3, 4.4.2, 4.4, 4.3)
Android (4.4), HTC Sense UI
Android (5.1 Lollipop, 4.4.2)
16.20 hours
the

average

is 19 h (1110 min)
23.2 days (556 hours)
the

average

is 0 days (0 h)
Single camera
Single camera
Single camera
13 MP (Autofocus, BSI sensor)
8 MP (Autofocus, BSI sensor)
Aperture size: F2.2; Sensor size: 1/3"; Pixel size: 1.12 μm
Aperture size: F2.4
1280x720 (HD) (30 fps)
1920x1080 (Full HD)
Yes
1.3 MP
5 MP
1.3 MP
1280x720 (HD) (30 fps)
1920x1080 (Full HD)
5.11 x 2.59 x 0.46 inches (129.9 x 65.9 x 11.6 mm)
5.41 x 2.56 x 0.42 inches (137.43 x 65.04 x 10.6 mm)
5.10 x 2.60 x 0.39 inches (129.6 x 66 x 9.8 mm)
5.04 oz (143.0 g)
the

average

is 6.5 oz (184 g)
4.83 oz (137.0 g)
the

average

is 6.5 oz (184 g)
4.27 oz (121.0 g)
the

average

is 6.5 oz (184 g)