HTC One max review: ask us all you want to know about it
24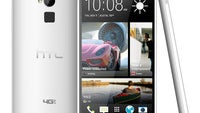 What's big, made of metal, and capable of scanning your fingerprints? No, it isn't a robotic detective we're dealing with. Actually, if you've read the title of this post, then you should have no troubles giving the right answer to this question. Yup, that's the
HTC One max
– the company's 5.9-inch Android phablet, which launched in some parts of the world just days ago, including markets in Asia and the Middle East. And sooner than later, it is going to reach European and North American shores as well. In the U.S., in particular, Verizon and Sprint are two of the carriers interested in offering this beast, with AT&T possibly joining the fun at some later point in time.
Now, we've already posted our thorough
HTC One max review
for anyone who wants to learn more about this humongous handset. But as extensive as our review may be, there are probably details that we unintentionally omitted – details that still might be of interest to some of our readers. That's why we thought we'd have a Q&A session. You, guys, post your questions about the HTC One max – anything you wish to know about it – and we promise to come back in a few days with the answers. Note that if your question has been answered in our HTC One max review already, then chances are we won't provide you with a response. Also, we're pretty sure that the HTC One max would blend, so don't bother asking and don't even think about testing that by yourself. With that out of the way, the comments section below is all yours!