HTC One max price leaks out
35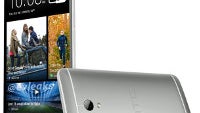 The
HTC One max
has been official for a few days now, though the company has failed to communicate a fairly essential piece of the puzzle that may just decide the faith of its new phablet: price. Unfortunately for HTC, the mobile space doesn't much care for the not knowing, so it's not surprising that we've already gotten the first price leak from an alleged Chinese source for GSM Insider.
According to the anonymous rebel, the unlocked international version of the HTC One max will command a $833 price tag (RMB 5,088). We say international version, because HTC actually targeted China as their primary market with the One max for the first time, though according to the source, pricing there is actually a bit steeper: $899 (or RMB 5,488) for the local market, regardless of carrier.
The last snippet of information includes the fact that HTC China, for one, will be offering the HTC One max in a sort of a bundle with extra accessories like the HTC Mini – a featurephone for your smartphone, and a Bluetooth headset. It doesn't, then, seem like a stretch to imagine that HTC may offer a similar deal to its non-Chinsee customers, though this will spike the price, up to $982 (RMB 5,998) in the case of HTC China.
In closing words, this will be
every bit as premium as it looks
, despite HTC's woeful financial predicament, and that sounds fair.