HTC One X to get Jelly Bean update in October
23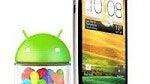 If you have a non-branded HTC One X, expect an Android 4.1 Jelly Bean to be available in October. MoDaCo.com got word that generic One X units will get the update first.
For those with a carrier branded unit, like AT&T, the Jelly Bean update for your
HTC One X
should be available before Christmas. Given how quickly Android 4.1 is being adopted, relative to previous releases, you would probably be okay to hope for a time sooner than that.
Like with so many OS updates, it has been a waiting game since HTC announced that their One X, One S and One XL devices would be updated to Jelly Bean because, like with so many announcements, no date for the updates was provided. This news is welcome since some in the rumor mill were projecting updates closer to the end of December at the earliest. So far, only news of an update for the One X has been reported. We have not seen word of Jelly Bean updates for the One S or One XL, but when we do, we will be sure to pass it on to you!
sources:
MoDaCo
via
Pocket-lint