HTC One X+ hands-on
47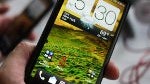 After it spent a whole lot of time stirring up some much-needed competition, it's fitting that we finally got our chance to check out the next iteration of HTC's popular flagship – the
HTC One X+ that's coming to AT&T
in the very near future. Just looking over its specs sheet and all, there's no arguing that it's a workhorse in every aspect, which is what we'd expect out of a device bearing the One X moniker of course. Interestingly enough, however, some people believe that this new handset is what the original HTC One X for AT&T should've been from the onset.
Visually speaking, it's nearly an
exact facsimile
, but internally, the HTC One X+ packs along an upgraded quad-core
1.7GHz NVIDIA Tegra 3 processor
combined with good 'ole 4G LTE connectivity, larger
2,100 mAh battery
, and a whopping
64GB of internal storage
. Now that's one extensive overhaul, wouldn't you agree? Well, don't forget to check out some of the things that really stood out from our initial look at the behemoth.