HTC One M9 promo videos are here; one clip is narrated by Robert Downey Jr.
16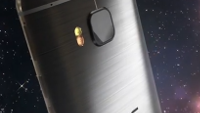 HTC posted to social media on Thursday, the two videos
it played on Sunday as CEO Peter Chou took the stage
to introduce the
HTC One M9
. The first video shows what you might consider the birth of the HTC One M9. We see metal in the sky, forming the body of what turns out to be HTC's new flagship phone. Soon, the BoomSound speaker can be seen along with the new volume rockers and the repositioned power button on the phone. There it is in all of it's glory, the HTC One M9.
The second video is narrated by none other than Robert Downey Jr. You might recall that
HTC reportedly paid the actor $12 million
to appear
in a ridiculous advertisement that fell flat on every level
. All we can assume is that HTC was owed a few more ads for the $12 million they paid Downey and wanted to get their money's worth. This video showed different people all around the world using the HTC One M9 and ended with Downey Jr. saying that "we're all One."
While these videos were perfect for the occasion in which they were used, for HTC's sake let's hope that the actual television ads focus more on the features of the phone. Last year's ad for the
HTC One (M8)
featured actor Gary Oldman
telling consumers "
Blah, blah, blah
." If HTC wants to take on the
Samsung Galaxy S6
,
Samsung Galaxy S6 edge
,
LG G4
, the
Apple iPhone 6
and
Apple iPhone 6 Plus
, it will need to produce memorable ads that actually sell the public on the phone.
source: HTC (
1
), (
2
) via
AndroidCentral