HTC Omega and Nokia 800 show up in gaming stats online
3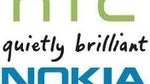 The
HTC Omega
is one of those mysterious handsets that is known very little about, and every tiny clue surrounding them is capable of sparking the curiosity of many smartphone enthusiasts. Sure, its existence has never been officially confirmed, but when
accessories for it showed up online
, we grew a lot more confident that the Omega could be real after all.
Just recently,
the Omega has managed to pop up online again
, albeit not in person, which is another hint that it may soon make it to HTC's smartphone portfolio. The device was spotted on Elbert Perez's game stats page, which means that there is at least one of them out there and it is most probably being tested as we write these lines.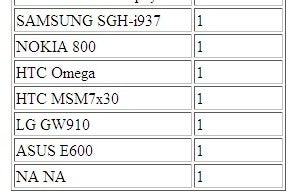 The HTC Omega and Nokia 800 appeared in Elbert Perez's game stats page
Since Elbert is a Windows Phone developer (and author of the highly anticipated title Air Dagger, by the way), we can be pretty sure that the HTC Omega will run Microsoft's mobile platform, most likely with the Mango update on top. The device is also rumored to be powered by a third-gen Qualcomm chipset clocked at 1.5 GHz and will allegedly feature a 3.8-inch SLCD display.
Another smartphone to surface from Elbert's statistics is the Nokia 800, which at this time is completely surrounded by mystery. However, for the reason that we mentioned above, we are pretty certain that this is another Windows Phone 7 device that we are dealing with. Could this be the
Nokia Sea Ray
cleverly disguised behind the three-digit model number? We can only guess at this time, yet chances of that being true appear to be relatively high as there isn't another Nokia-made WP7 device that we are aware of yet.
Are you excited about any of these two smartphones? Feel free to share your thoughts by dropping a comment below.