HTC HD7S graces AT&T with an updated WP7, 4.3" screen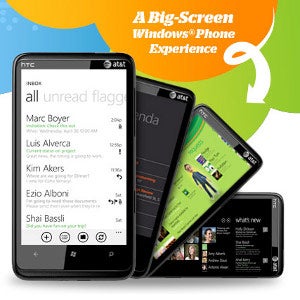 Okay, now that wasquick. In a lucky coincidence, mere hours after the announcement ofthe AT&T and T-Mobile deal, one of T-Mobile's main Windows Phone7 handsets, the HTC HD7, is coming to the nation's largest carrierrebranded as the HTC HD7S. The 4.3-inch WVGA Super LCD display ofthe HD7S is the largest in the WP7 lineup, but even more intriguingis the fact that the phone will ship with an updated version ofMicrosoft's platform supporting copy and paste. On the software side you get a 1GHz single-core processor, while in the camera department you have a 5-megapixel snapper, but this would mean nothing without a thorough review of their performance.
The huge screen istouted to be "improved super LCD high resolution display," but weare yet to decipher the exact meaning of those words. Whatever it is, the big screen is the perfect asset for watching videos and AT&Tpairs the phone with the proloaded U-verse Mobile app for quickaccess to TV shows at a $9.99 monthly rate. This is all the information available so far, but we're sure to hear more about the HD7S and its pricing in the "coming weeks" when it will hit retailers. Well, this shouldbe the first step to the scary growth of AT&T's portfolio. Buthey, we like to be scared this way, don't we?
source: AT&T