HTC HD2 seen getting Windows Phone 7 Series treatment
This article contains unofficial information.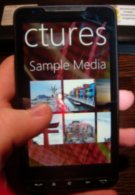 With all the fingers pointing to no Windows Phone 7 Series on the current Windows Mobile king in the HTC HD2, it was only time that developers would need to face before someone out there managed to accomplish what was simply stated as not being done. Now that the Windows Phone 7 Series dev tools are now out and about for people to check out, one developer in the vast land of Russia finally was able get Microsoft's next generation platform onto the venerable current gen handset. Just looking at the screenshots will really make those brand new T-Mobile HTC HD2 owners fill up with joy and anticipation as it clearly shows that the phone is up to the task of running the new platform. Apparently everything looks to be running fine which includes Wi-Fi, GPS, and Bluetooth, but there is a noticeable device lag that's attributed to the graphics driver. Despite that shortcoming, the developer is intent on releasing a beta soon so we can all possibly check out Windows Phone 7 Series running on a handset way before an actual handset is officially launched.
HTC HD2 Specifications
|
Review
via
Engadget