HTC Flyer Hands-on
9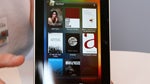 Ever since tablets became the next big thing in the mobile computer biz and manufacturers started unveiling their freshly-conceived offerings like there's no tomorrow, everyone was like "So, where's HTC in all this?" Wasn't the Taiwan-based manufacturer who made a name for itself with its magnificent Windows Mobile and Android smartphones going to join the tablet race? As time passed by, the need for a quality product in the market not called iPad was getting ever more evident, especially with "me too" efforts like the
Samsung Galaxy Tab
, which was actually among the better offerings. Obviously, such quality product could easily come from HTC, but the company was not letting any word out regarding a possible entrance in the world of tablets.
And now that it looks like competition is to get stronger and stronger, with a bunch of Honeycomb tablets being scheduled for a release in the not so distant future, HTC has finally come out of the blue and introduced its first ever tablet – the
HTC Flyer
. Personally, we feel like HTC has just missed the right moment to appear on the scene, as we are already looking forward to the XOOMs, Tabs and Pads of tomorrow. Nevertheless, HTC has at least taken its time to develop some exclusive services that won't be available with other brands' tablets, so it's once again counting on not only premium design quality, but unique software features as well. Will they be enough to fend off the competition in the upper part of the tablet hierarchy? As we've spend our first few minutes with the device, we're yet unsure of this, but one thing is fairly certain – HTC has taken one pretty tough tablet out of its pocket.
Well, yeah, theoretically, you'll be able to fit the HTC Flyer inside a large pocket of, say, your coat, same as you can do with the Samsung Galaxy Tab. That's because HTC has sided with the smaller form-factor of a
7" device
, with a resolution of 600x1024 pixels. This makes the Flyer one of the more compact tablets that are to come out in H1 2011. In contrast to the Galaxy Tab though, the HTC Flyer is made of aluminum and has that hot unibody construction, which feels really classy to the touch. Fortunately, this doesn't make the tablet significantly heavier than the plastic Galaxy Tab, as it weighs 14.82 oz (420 g), as opposed to the Tab's 13.40 oz (380 g). The device can be held with one hand (and operated with the other) relatively easily, although your wrist will begin to tire with longer usage.
Under the hood resides a
devilishly fast 1.5GHz Qualcomm processor
(of the single-core type), complemented by 1GB RAM and 32GB storage space (microSD slot is available). These specs seem reassuring enough that the HTC Flyer will deliver great performance (tell that to the poor 4000mAh battery!). On the back side is where you'll find a 5MP camera, while a secondary 1.3MP sensor is available on the front to allow for video calls.
Although pretty much all tablets that we saw here at MWC 2011 were powered by Honeycomb, Google's tablet-optimized build of Android, HTC has chosen a "slightly"different approach. The Flyer will run on
Android 2.3.3 – Gingerbread
, which will be customized with a reworked version of the HTC Sense user interface. As much as we like Sense in HTC's smartphones, whether the software will turn out suitable for tablets in the long run remains to be seen. From first glance, it does look pretty smooth on the Flyer's 7" screen, and we're confident that Peter Chou and company have done some pretty good work tuning it to ensure that it'll fare just fine in the tablet universe. Thankfully, great Android features like Flash Player 10 and HTML 5 support will be here to provide us with a full web experience – an extremely important element of every tablet.
What grabbed our attention in the software department however were
HTC's exclusive programs
, which will play a major role in distinguishing the HTC Flyer from its opponents. First we have the so-called Scribe technology, which basically enables you to use a special pressure-sensitive capacitive stylus! Yey! Finally a modern tablet to be used by professional designers. Or, not really. Still, the Scribe functionality will be useful for quick note-taking purposes or basic drawing. You can check it out in the demonstration video below. Next comes the HTC Watch app that will be used for movie streaming and downloading, and last, but not least, we have built-in OnLive support for cloud gaming capabilities. Just how responsive this would be remains to be seen though, as even the demo video by HTC didn't look very lag-free. As a whole though we really like the moves HTC is doing with regards to differentiating its product.
The inevitable question is of course – when the HTC Flyer comes out? Although a specific release date is not provided, the manufacturer states that its first tablet should hit the shelves sometime in the second quarter of the year.