HTC Flyer Benchmark Tests
11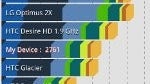 In an age where dual-core processors are increasingly becoming a must-have with most tablets, especially when they intricately focus on various multimedia functions, some might be irked to find other tablets deciding to stick it out with single-core processors instead. Nonetheless, the
HTC Flyer
is able to step it up from the usual set of Snapdragon processors we find used by most smartphones since it clocks in at a mind blazing
1.5GHz
.
Just quickly operating the tablet, it's more than evident that speed is something that's prevalent with the HTC Flyer when it comes to normal operations such as kinetic scrolling and navigation. Still, we're sure there are some people out there that take pleasure in knowing what kind of benchmark scores it's able to dish up.
Running the
Quadrant benchmark app
a few times, we're able to get scores between
1,810 and 2,263
, which is definitely pretty good versus some of the other smartphones relying on single-core processors. In contrast though, it's still not as impressive when comparing it to the results we've seen put out by some of today's high-end smartphones and tablets using dual-core CPUs. Additionally, we ran the
AnTutu Benchmark test
where it managed to pull in an
overall score of 2,761
, which again, is clearly behind the numbers put up by devices like the Motorola XOOM and LG Optimus 2x.
In any event, you still can't judge a device merely on the figures it's able to generate with these benchmark tests. Honestly, it still exudes a good amount of speed and responsiveness when it comes down to normal operation, which is undeniably what matters the most. On the other end of the spectrum though, we're curious to see what kind of battery life it'll be able to achieve.