HTC First "Facebook" phone hands-on
39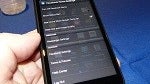 Unfortunately, we were not allowed to take any hands-on video of the new HTC First, in fact, even handling the device was fairly limited. However, we were able to get a lot of up-close pictures.
The HTC First is built with typical HTC quality, that is to say it is very good. No specifications were revealed during the presentation. However, the specification are available on the web. There are not any surprises in the hardware as the HTC First is definitely a mid-range piece of hardware. The HTC First features a 1280x720 4.3-inch display and the well rounded edges make the device fit very nicely in the hand. Shape-wise, it is similar to the first generation iPhone.
In the engine room is a dual-core Qualcomm Snapdragon 1.4GHz processor. Dishing out the power is a 2,000mAh battery. The main camera is a 5MP unit with LED flash. There is 1GB of RAM and 16GB of storage and there is no microSD storage available. Under the baked-in Facebook Home experience is stock Android 4.1 Jelly Bean. While the display is 720p, the images and colors on the HTC First are clear and vivid. The front facing camera is 1.6MP.
For Instagram fans, the app is also built in. While Facebook Home is the top layer, the rest of the Google and Android ecosystem works with not issues. Notifications appear as horizontally oriented cards which can be swiped away in a similar fashion to webOS notifications of yore.
Specification-wise, the HTC First is not cutting edge, but for its social-centric mission it does not need to be. The Facebook Home experience is very fluid and there were no signs of any stuttering or lag. At $99.99 on AT&T, this mid-range device is within reach of people that are social butterflies and love Facebook.