HTC EVO 3D gets rapped about
34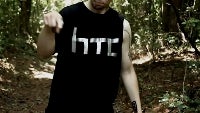 Say what you will about 3D on your smartphone, but even without the stereoscopic cameras and parallax barrier display, the
HTC EVO 3D
is one mightily impressive handset.
So much so, that Brandon Peterson made a video in which he raps about it, over Kid Cudi's "Cleveland is the Reason" instrumental. The guy seems mesmerized by Dan Hesse giving him the best data plans, so Sprint's CEO gets the "
Hey, Dan, you da man
" lyrics.
Speaking of text, at times the whole thing is hilariously serious, with a thorough overview of the HTC EVO 3D's specifications, listing chipset speeds, resolutions, user interfaces - the whole nine yards of tech reviews.
There are some personal favorites in the lyrics, but watch the HTC EVO 3D rap video below, and pick your own. At the end the lyricist takes a not-so-thinly veiled jab at Apple's iPhone, which can be expected from any self-respecting Android rap video.
Thanks, AndroidTroll!