HTC Droid Incredible appears on offical Verizon page, comes April 29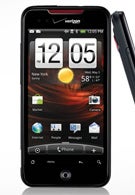 Yes, your eyes are not lying to you - Verizon will soon announce the Incredible as the
Droid Incredible
. Why? How? Just a few hours ago we saw that Verizon employees are
reportedly getting ready
for a training session with the hot device, and now the handset has finally appeared on an official Verizon staging page... as the HTC Droid Incredible. The Droid Incredible will be introduced to the world on
April 29
,
just as it was rumored
.
The Android smartphone itself looks very nice and has an industrial design, with Verizon-like red accents, which fit perfectly with the jet black body. Of course, HTC's Sense UI is also there to provide you with a better overall experience. You can check the page through our source link.
So now we have a question for you. Which one seems cooler to you: the Google-powered
Nexus One
, which is also
expected soon with Verizon
(how about a Droid Nexus One?) or the Sense-packing HTC Droid Incredible? Or maybe you want to experience the WiMAX power of the almighty
HTC EVO 4G
? Feel free to comment below!
HTC Droid Incredible Preliminary Specifications
source:
Verizon
Thanks, Daniel!