HTC Droid Incredible 4G LTE hands-on
46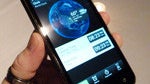 If you've been playing around with a HTC Rezound for Verizon, you might not be as amused by the
recently announced
HTC Droid Incredible 4G LTE
– albeit, maybe things might change after pricing is announced. Looking back at the handset's rich history, starting with the venerable HTC Droid Incredible, this latest model clearly has a lot to live up to, especially when the Droid Incredible 2 came out lacking LTE last year.
This time around, as its name blatantly implies, the handset is packing support for Big Red's speedy data connection, though, from an initial look, the HTC Droid Incredible 4G LTE is merely nothing more than a mini HTC Rezound. Specifically, it employs the same
characteristic design
as the Rezound – with its soft touch pattern designed rear plastic casing. Well, it's a lot more form fitting in the hand mainly due to the fact that its size is smaller all around. Then again, the
4" qHD (540 x 960) Super LCD
display kind of impacts that easier to hold in the hand feel. Despite its uninspiring design, it's still relatively solid with its overall build quality.
Under the hood, the handset's
1.2GHz dual-core Qualcomm Snapdragon S4 processor
enables the smartphone to move effortlessly with most operations. And seeing that this small bundle of joy is featuring the new Sense 4.0 UI running on top of Android 4.0 Ice Cream Sandwich, it has all the usual arsenal of personalization that we come to expect. As for the rest, the HTC Droid Incredible 4G LTE is regarded as a camera centric device – mainly because of the 8-megapixel snapper it's flaunting, which so happens to feature a F2.2 aperture lens, backside illumination, 1080p video recording, and a single LED flash.
Again, it's all going to hinge on price point as to whether or not it's going to be an attractive option. Clearly, the HTC Rezound still appears to be the spec-heavy device, but if pricing is somewhat justifiable with the HTC Droid Incredible 4G LTE, it might simply prove to be a good enough sell for most people. Time will tell folks!