HTC Desire HD is coming to Canada courtesy of TELUS?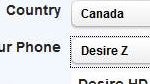 Much like the rest of the world, Canadian consumers have been gleaming at HTC EVO 4G owners across the border as they are able to take hold of a monstrous Android powered device. Although
Europe
and Australia are finally getting their turn with the HTC Desire HD, it looks like Canada is also penned down to see the light of this awe-inspiring smartphone.
After taking a closer look at the HTC Sense Canadian portal, the HTC Desire HD is listed alongside the recently available HTC Desire Z handset with Bell – so one would have to assume that the Desire HD is headed for TELUS. In any event, there are going to be a lot of people interested in this handset since it brings forth some larger than life specs under its hood.
However, the only sour note with the whole thing is that the Android 2.2 powered handset would probably launch some time in early 2011 as opposed to something closer for the busy holiday season.
via
The Cellular Guru

Recommended Stories