HTC Desire 826 vs HTC One (M8): first look
6

Introduction
Soon after showing the HTC Desire 820 to the world, the Taiwanese outed the slightly bigger, slightly faster, slightly stronger HTC Desire 826. Boasting, essentially, the same hardware capabilities, but upping the screen resolution to 1080p and running Android 5.0 out of the box, the Desire 826 is positioned as cheaper, but no less capable alternative to the HTC One (M8) - a flagship that's just about to hand the crown to its heir, but will remain a substantial presence on the market for at least a year to come. Let's see how the Desire 826 and One (M8) by HTC compare with each other.
Design
HTC's designers are making a clear divide between its flagship and "almost flagship" devices in the look & feel department. Not to say the HTC Desire 826 seems or handles worse than the big hunk of metal that is the One (M8), but objectively, we all know which of the two creates an instant, lasting impression. Put next to the M8, the colorful and charming Desire 826 becomes utterly forgettable - but that's something we can say for many other Android smartphones.
Before we sing another round of praises for the One (M8), let's turn our attention to the newcomer. The Desire 826 reminds us a lot of the Desire 820, with some elements borrowed from the Desire EYE. For example, the BoomSound speakers are hidden in thin lines where the display panel meets the top and bottom bezels, just like in the EYE. The 826 is made of glossy plastic garnished with subtle color accents. It is a non-trivial, but easygoing look that's steadily becoming the Desire series' new visual identity. Unlike the all-metal HTC One (M8), the Desire 826's sides have a rubbery texture for a better grip. And dimensions-wise, the device measures 6.22 x 3.05 x 0.31 inches (158 x 77.5 x 7.9 mm), weighing 6.46 oz (183 g).
Now, the HTC One (M8), you say? You know it. You love it! Measuring a more compact, but thicker 5.76 x 2.78 x 0.37 inches (146.36 x 70.6 x 9.35 mm) at a weight of 5.64 oz (160 g), the One (M8) is an all-metal premium offering that deservedly won our 2014 award for Best product design. Due to aluminium's slippery nature, the One (M8) is a tad more clumsy and delicate to hold, but a phone as beautiful as this needs to be treated like a princess at all times.
For what is worth, both smartphones have a similarity in their bezels. Huge, unapologetic, early 2014 bezels on both. We hope HTC is going with the times and slimming down those frames appropriately in its next flagship smartphone.
Display
Not only the Desire 826 one-ups the Desire 820, it outdoes the HTC One (M8) too! With their 1080p resolution displays, the two are on par pixel-wises, but the Desire 826 has a bigger-ish 5.5-inch screen diagonal with a cool 401ppi pixel density. In our hands-on, it provided a sharp image and nice, wide viewing angles, so we're reasonably excited about putting it through our display test and getting a more detailed impression. Meanwhile, the HTC One (M8)'s 5-inch LCD panel is still a thing of beauty, trading in a few inches for a higher pixel density of 441ppi. Neither of the two smartphones disappoints, and these screens still hold their own against the QHD resolution displays that are starting to dominate the high-end segment.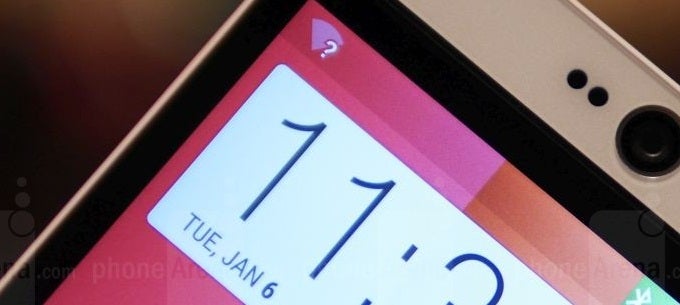 Interface
HTC is certainly happy to market the Desire 826 as the first one in its lineup to feature Android 5.0 Lollipop out of the box. And rightfully so - the early bird gets the worm, as they say. However, the familiar and exceptionally fast Sense interface that's a highlight of both the Desire 826 and the HTC One (M8), doesn't seem especially different from before in its Lollipop-based incarnation. This will be of good news to HTC fans, but not so much to those looking forward to a strong Material Design influence in the Sense interface. For the not so involved, the highlights in it include a sleek interface design, HTC BlinkFeed - a fine and dandy news reader, and HTC Zoe - a photo and video sharing community.
Processor and memory
Being the more recent device, the HTC Desire 826 is outfitted with a cutting-edge 64-bit Qualcomm Snapdragon 615 octa-core processor, clocked at a respectable 1.7GHz and paired with 2GB of RAM. This is a nice all-around processor that doesn't achieve quite the performance peaks the Snapdragon 810 has made a name with, but packs sufficient power for everyday tasks and 3D games. It's packaged together with 16GB of expandable storage (up to 128GB).
The HTC One (M8) flaunts the uniform hardware profile of 2014's flagship smartphones. It runs on Qualcomm's speedy 32-bit Snapdragon 801 quad-core processor clocked at 2.3GHz, paired with 2GB of RAM and 32GB of built-in expandable storage. With such a lightweight, fast user interface on top, the HTC One (M8) has no problems breezing through anything it all, and it's still one of the zippiest handsets one can get their hands on.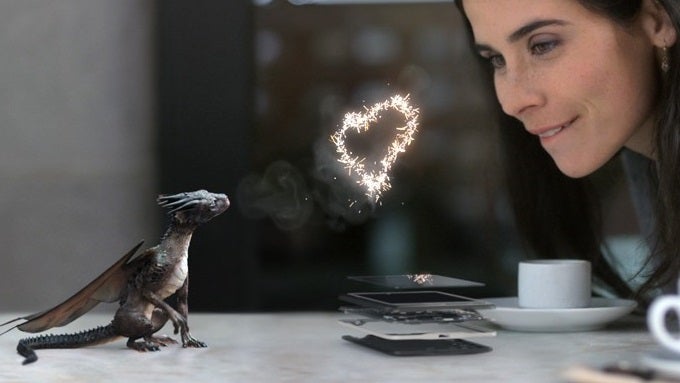 Camera
The HTC Desire 826's main camera uses a 13 MP sensor, which is still fine in this day and age, but we've come to know better. Still, If the sensor is the same as the one in the Desire 820, we expect some eye-catching results. On the front side, there's that HTC 4 MP UltraPixel camera nobody ever wanted as their main cam. It's the same tech that HTC used as its One (M7 and M8) models' main cameras. Was the UltraPixel tech a perfect choice for a selfie cam all this time? We'll be seeing about that soon.
As for the HTC One (M8), its UltraPixel duo camera system gets the job done, but for the most part, it gets blown out of the water in terms of color reproduction and overall photo quality by the 13 to 16MP (even 20.7MP) cam sensors of today's flagships. Meanwhile, Qualcomm's image processing technologies and some clever depth-sensing algorithms rendered the dual camera obsolete. Up front, we have a 5-megapixel cam that puts the HTC One (M8) in the awkward position of having its video chat and selfie camera take bigger photos than the one on the rear.

Expectations
If it ends up priced close to $500, the HTC Desire 826 will represent excellent value for money. Well, not quite Xiaomi Mi4-like value, but pretty good nevertheless. It has the potential to generate strong sales at that price. It's also shaping up to become one of finest Desire smartphones in the lineup's history. As for the HTC One (M8), which still commands a $600 to $700 price tag unlocked, you'll have to decide for yourself whether you want one now, or you'd rather wait for HTC's upcoming announcements. Buy smart!