HTC Accord photos surface again, Verizon logo revealed
19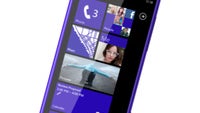 With the
HTC media event in New York City
only hours away from now, the anticipation surrounding the company's upcoming smartphones is steadily building up. It is believed that
three new handsets will be unveiled today
, all powered by Windows Phone 8. And while two of them we don't know much about, one in particular has been leaked on the internet more than a few times already.
We are talking about the
HTC Accord, also known as the HTC 8X or the HTC 8S
, photos of which once again were slipped under our door this morning. It is clear that the smartphone is headed to Verizon, judging by the presence of the carrier's logo on the device's back. The images also confirm the rumored
Kid's Corner Windows Phone 8 feature
, which is said to allow users to limit the access to certain handset functions in order to make the device safe for kids to play with. 4G LTE is also on board, obviously, in addition to Beats Audio technology for richer sound. On the front of the HTC Accord resides a front-facing camera, while the snapper on its back is
rumored to take some pretty good-looking photos
.
No hardware specifications have been revealed by our tipster, but it is rumored that the HTC Accord, or whatever the smartphone ends up being called, is equipped with a dual-core Snapdragon S4 SoC clocked at 1.5GHz. Not much of a surprise, actually, given that all recently announced WP8 smartphones are outfitted with Qualcomm silicon. Its screen allegedly measures 4.3 inches in diagonal and is made using Super LCD 2 technology. Resolution is said to be 720 by 1280 pixels.
That's about all the information we have for now, but it won't be long until all the blanks are filled. The HTC Media event starts at 11:00AM sharp (EST), so stay tuned for our coverage!
Thanks for sending this in!