HP's keyboardless phone leaks out, Pre 3 coming to Verizon?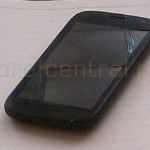 webOS might be the first thing thatpops into your mind when you see a portrait QWERTY slider, but thislatest leak could change your perception of an HP/Palm-branded handset altogether.This yet unannounced device by HP comes
without a physical keyboard
,according to a tipster, who shared the image below with tech blogPreCentral.
Judging solely by the visualappearance, the handset seems to sport a thinner profile and aslightly larger screen than the one on the Pre 3, possibly with a resolution of 480 x 800. On top, it features a front-facing camera of sorts, which could well turn out tobe just a proximity sensor. Unfortunately, that's where informationgets scarce, but folks over at PreCentral theorize that the devicecould be the HP Stingray or HP Windsor, which were uncovered in webOS 2.0 code back in November of last year.

In addition, a Pre 3 running on VerizonWireless was leaked and it's the first prototype to run on CDMA radio asall previously shown models worked on GSM networks. While thisdoesn't necessarily mean that we'll see the Pre 3 on Big Red, it's astrong hint in that direction. Keep your fingers crossed, we shouldknow more about both devices in the summer months, when the newest Pre is to hit shelves.