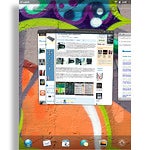 Introduction:
As it stands right now, there are 5 major players in the tablet platform space with each one vying to get its piece of the pie – and as we all know, webOS is the latest member to the join the crew in this increasingly competitive market. We've already gone through the
webOS 3.0 powered
HP TouchPad
in detail with
our review
, but despite its shortcomings, we're curious to see how webOS 3.0 presents itself as an actual tablet operating system. Although it isn't necessarily a new platform built from the ground up, it carries along some of the more popular foundational principles of the mobile platform – but more importantly, how does it compare to the crowded competition?
Design aesthetics & Functionality:
Some would probably dare to be brash about pointing out webOS 3.0's deliberate similar appearance to webOS for smartphones, but in all honesty, it's not the first time we've seen it happen since the iPad mimics the iPhone's look and feel. Granted that some might be disappointed by its unchanged presentation, webOS 3.0 still caters to the tablet medium very well with its careful and simplistic approach. In fact, we like that the
status bar
is visible at all times to give us quick access to some information and basic functions without the need to run some sort of app. And despite the fact that the sliding launcher bar is now gone, we're not all too disappointed with the decision because you can always bring it up by pressing the TouchPad's physical home button, or simply executing a swipe up gesture from the bottom bezel.
Even though webOS was born to be a tablet platform, there's one thing that's just an eyesore by looking at its
homescreen
– and that's the exorbitant amount of dead space. Of course, the background wallpaper, launcher bar, and Just Type box are all visible, but there's just an exorbitant amount of unused space there that could've been better used. As with most other things, we're not picky with the
app panel
mainly because its layout is profoundly evident with other tablet platforms.
Undeniably, the interface isn't opulent with glitzy looking 3D effects, but we continue to be enamored by its tasteful approach with
multi-tasking
. Whereas other tablet platforms implement a static experience, webOS is known to be more dynamic with its operation thanks to its combination of using
gestures
and its
cards system
. Naturally, it boasts far more organization thanks to the aid of its "stacking" feature, but there's still plenty of interaction when it comes to exiting apps completely – thus making the experience a very engaging one. Additionally, its
notifications system
continues to be functional and unobtrusive as they all pop up in the status bar.
Sadly, there isn't a whole lot in terms of
personalization
with webOS 3.0 since the only thing we're presented with is the ability to change the background wallpaper – but then again, it's no different from the majority of competition. Leaving us with more to desire,
Exhibition Mode
is indeed an alternative offering even though we have to manually run it, or have the TouchPad charging. Considering that the platform requires some serious horsepower to operate, we're not all too convinced that the platform is showing off what it's capable of doing.
Ultimately, that leads us to the undeniable truth that webOS 3.0 is basically marred by some stifling and baffling performance issues that can irritate some people. Actually, its operation is precisely smooth when it works fine, but when it's not for some odd reason, we experience erratic things like long load times, hang ups, choppiness with navigational operation, and some random crashes that restarts the TouchPad. Needless to say, it's undoubtedly challenging and doesn't make webOS 3.0 appear polished. Nevertheless, we're seriously yearning to see some software updates in the near future to iron out some of the frustrations we have right now.