HP demonstrates the TouchPad in a series of videos
9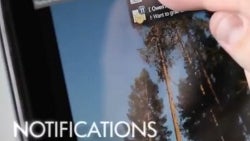 HP's TouchPad is different. It's all about
webOS
– but as good as that sounds, we've never really seen webOS for tablets and that's why this series of videos educating us on why it's so awesome, are a must-watch. Jonathan Oaks, Director of TouchPad Development at HP, focuses on what the platform can do on the 9.7-inch tablet in four very concise and to-the-point clips.
1.
HP TouchPad Synergy
– HP has been touting Synergy from the very announcement of the TouchPad, but basically it all boils down to a unified view for emails, which can be pulled from multiple sources. The same applies for calendars and contacts, but there is also a neat way to pull pictures from services like Facebook and discuss them within the native photo application.
2.
Just Type
– You might have thought it's just a universal search, but in its latest iteration Just Type will also give suggestions for apps, but very importantly it will also initiate quick actions so whenever you type something you could save it to a memo without opening the notes application. Working in concert with an onscreen QWERTY with a keyboard row and adjustable sizes, you end up having a very capable combination.
3.
True multitasking
– WebOS treats apps as cards and with a dual-core Qualcomm processor, HP promises the tablet won't even stutter. But the platform also stacks cards together. The practical implementation? Say, you're in an email and open an attached image or document – it all goes in the respective group.
4.
Notifications
– Shown in the upper system bar of the tablet, notifications on the TouchPad are unobtrusive. But they're also sorted out so emails get a separate icon, while SMS messages get another. Pop them open, and you can ccroll through all the emails without opening the email app.
Overall, webOS proves one more time that it has all the maturity of rival platforms and more, but at the same time it does lack the developer support a system like iOS has. Even in the videos, there is some noticeable lag and - being accustomed to the stutter-free performance of tablets like the iPad - this might be a dealbreaker if it shows in the final product. But let's not make premature judgments, but rather enjoy the possibilities of webOS revealed in the videos below.