HP TouchPad tablet to get unofficial Android app compatibility in July
4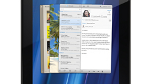 The
HP TouchPad
, for those who need to have their memory refreshed, was the company's failed attempt at launching a tablet based on the Web OS platform. Soon after its launch, HP gave up on WebOS entirely and slashed the TouchPad's price down to $99 in order to clear out retailers' inventories. Many bought one lured in by its low price only to discover that the platform suffered from severe app deficiency.
Eventually, the CyanogenMod team breathed new life into the
HP TouchPad by releasing an Android port for it
. This dual-boot solution worked well, allowing users to run Android apps when needed, while still having the option to go back to WebOS for casual stuff like web browsing or reading email.
However, HP TouchPad owners may soon have the option to launch Android apps without having to leave the WebOS environment. A recent Kickstarter project launched by Phoenix International Communications just raised $35 000 in order to make that possible by fusing an Application Compatibility Layer into the operating system. If all goes as planned, applications compatible with Android 2.x should totally work on the HP TouchPad like magic, and the possibility of having Android 4.0 app compatibility as well isn't out of the question.

The guys are hoping to have a working solution up for purchase by the end of July so keep an eye on the project in case you own one of them HP TouchPad tablets.