HP TouchPad one step closer to running fully functional Android, multi-touch enabled
4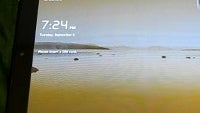 The 9.7-inch
HP TouchPad
might not have been in your wish lists when it launched with a hefty $500 price tag for the basic 16GB version, but a month or so later, it seems that everyone wants it after HP slashed the price in an unmatched
firesale selling 16 gig TouchPads for $99
, while 32GB models ran at $149. Not everyone is happy with webOS, though - the platform has a brilliant interface but is scant on apps and its future is murky at best. That's where the TouchDroid and CyanogenMod teams come to
port Android to the tablet
and they've made some remarkable progress in the weeks since it started.
Last week we saw the
HP TouchPad booting into Android
2.3.5 Gingerbread, but as good as it sounds it was practically a proof of concept version of the platform as the screen didn't react to touch. Now, TouchDroid has managed to
enable 10-finger multi-touch drivers
and the TouchPad is one huge step closer to running full-fledged Gingerbread. Previously, the team got the tablet to dual-boot into webOS and Android, so you don't have to be limited to only one platform.
Does this make you want the TouchPad even more? HP promised another, this time most probably
final batch of tablets
to hit the market and reports agree that the company has
1 million more slates
to sell. The biggest question is when are they hitting the shelves, and we can certainly imagine lines forming quicker than those before an iPhone launch. Has anyone managed to snatch a TocuhPad during the firesales and is Android on it a huge deal for you? Feel free to chime in with your thoughts in the comments below.