Gyms looking to completely crack down on cell phone usage, some patrons disagree
41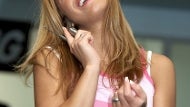 More and more fitness chains are trying to forbid the use of cell phones on their premises. Besides the annoying yapping we've all encountered while trying to finish that last set, nowadays there is also the privacy consideration.
Smartphones with their quality cameras can catch every minutiae of someone's workout or locker room stay, which is not always pretty unless you are a fitness junkie, and upload it to YouTube in minutes. This has been the source of discontent for many celebrities, as well as different people doing stuff with the equipment and getting their videos viral all over the Internet. For example, the video below was filmed on the hush-hush at a gym in El Paso, and went viral amassing more than a million views.
Others are bucking the trend saying that their patrons are finding it hard to resist texting or updating Facebook while on the treadmill, for example, and can't be convinced this bothers anyone.
"
If you go to a Gold's Gym and someone gives you a lot of trouble about using a device on the fitness floor, someone will go, 'To hell with you, I'm going to Planet Fitness,'
" says Brian O'Rourke, CEO of Integerus, which consults man of the club chains and global fitness brands. He comments that banning all cell phone usage walks a fine line, but some veteran gym owners express opinions that this is the only way to go if you want to deal with the issue once and for all.
source:
NYT