Griffin MOTO TC Monster hands-on
5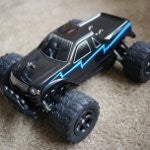 Oh the holidays! It's that time of the year when we drool over all the neat gifts we're given, and during our time, we've checked out our fair share of cool devices. Even to this day, there is still something about
remote controlled toys
that really envelops us – such as the many
smartphone controlled helicopters
we've been fortunate to play with. This time around, though, we're checking out a cool toy from the good people over at
Griffin
, which is primarily known for their extensive accessory line.
If you always dreamed about controlling one of those cool monster trucks that crunch on cars, like Bigfoot, then you ought to check out
Griffin's MOTO TC Monster
. First and foremost, it's monster truck toy that's controlled by an iOS device; such as an iPhone or iPod Touch. And to tell you the truth folks, we like the large size of the monster truck itself – though, the body is none other than a single molded piece of plastic. Regardless, the chassis of the monster truck is undoubtedly
sturdy
, which is aided by the monster-sized wheels it's sporting.
In terms of controlling this beast, there are numerous ways that can happen, but the actual connection is done via
Bluetooth
. Using the MOTO TC Monster App on an iPhone 5, the touch control options take some maneuvering to get adjusted to it. However, we actually prefer the
motion controlling option
, which allows us to merely tilt the iPhone to move the monster truck. Additionally, you also have the Slide and Tracks selections for controlling it. With the former, you slide your finger across the display to direct the truck – while the Tracks option will automatically move it in a predefined route.
Priced at only
$59.99
, it's indeed a toy that any age group can enjoy – even the kid inside of us all! Packing a 4.8V @ 600 mAh battery, we're able to continuously play with the MOTO TC Monster for approximately 15 minutes before it's tapped out. Afterwards, it requires a good half hour to fully recharge its battery.
Various Griffin accessories hands-on