Griffin SmartTalk Solar hands-on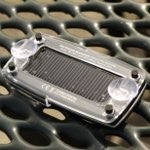 Alright, so Earth Day has come and gone, but that doesn't mean you need to stop thinking about the planet. For those individuals who consider themselves as eco-conscious, and big when it comes to chattering away, they ought to check out the
Griffin SmartTalk Solar
, which as its name implies, is a Bluetooth speakerphone that has a built-in solar panel.
Right off the bat, we take notice of the
ultra-compact form factor
of the Griffin SmartTalk Solar – simply, it's both
lightweight
thanks to its all-plastic casing and easily encompassed by one single hand. Although it seems somewhat
hollow
, the plastic body maintains a
clean appearance
at all times, with no smudges or fingerprints ruining its pristine look. Even though this thing gets its charge through the normal way of using its microUSB port, it stands out from other things we've checked out, for the simple reason that its
solar panel
in the rear that can absorb light rays shining down on it – thus, charging up its internal battery. Essentially, it's quite possible that you might not ever need to actually charge it the usual way, seeing that it comes with a suction cup holder that attaches onto your car's windshield.
Now it's worth noting that this is mainly going to be used for talking to people via Bluetooth, meaning, it doesn't allow us to output music on our smartphone to it. Nevertheless, it still features some modern conveniences such as
multipoint technology
to allow two devices to pair with it. In our quick testing, the audio output of the speaker isn't the strongest – therefore, you'll want to try and minimize any background noise that might muddy up the conversation. As it stands, you can pick up the Griffin SmartTalk Solar for
$69.99
, which some might find more than reasonable, especially when it can be powered by none other than the sun.