Gresso's $50,000 Grand Premiere is a feature phone
5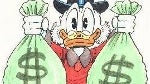 If you had $50,000 to spend on a new smartphone, would you buy one that runs on a dumb OS like Nokia's Series 40? Gresso is adding the
Grand Premiere
to its AvantGarde collection and the phone is filled with enough precious metal to make Scrooge McDuck blink. The frame and keys are made from over
5 ounces of 18 carat Gold
, and the numbers and letters on the sapphire crystal skin are etched by a laser. Obviously, every care was used to produce the hardware of this 12mm thick phone. Still it is more sparkle than substance.
When it comes to the software, well, let's just say that it is not exactly made from diamonds. The Grand Premiere uses the feature phone OS of Nokia - the Series 40 interface,
which means that you are not going to have all the features that your iOS 5 or Android totin' buddies have. Actually, you won't have a smart phone at all. On the other hand, they can't pawn their handset and use the proceeds to
buy a new car
.
If you have the money to burn and really, really want the Grand Premiere, you had better hurry. Only 30 of these will be made which would bring $1.5 million into Gresso's coffers if sold out.