Greenpeace ranks the greenest tech companies: Apple, Facebook and Google lead the charge
8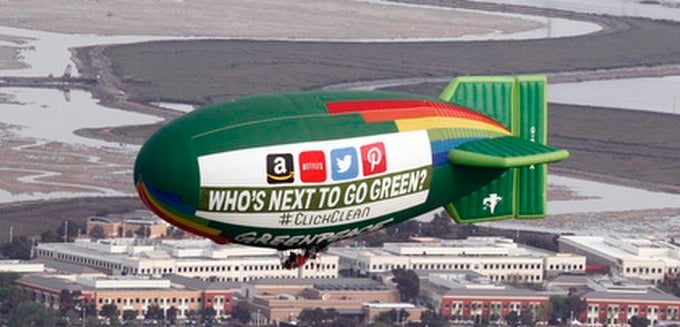 Greenpeace flew a blimp over Silicone Valley to urge tech companies to go green in 2014. (Photo courtesy of Greenpeace)
Greenpeace released its Click Clean report for 2016 today. And the results of it were not too different from last year. According to the report, Apple leads the charge among platform operators. The company achieved the impressive 83% on Greenpeace's Clean Energy Index.
Other notable companies are Facebook with 67% and Google with 56%. All three of the companies pledged to work towards using 100% renewable energy and they have all made major steps in that direction. Apple's new headquarters, the
Apple Campus 2
, that's currently under construction, will be powered by approximately 700,000 square feet of solar panels. Google, on the other hand, promised that its data centers and offices will be powered by renewable energy only, starting this year.
The clear winner in the colocation category of this year's ranking is the privately-held Switch, a newcomer to the list. The company is based in Las Vegas, and according to Greenpeace, it already runs exclusively on clean energy, making it one of the most eco-friendly tech companies out there. Switch's score card shows that it scored an A in every possible category. The company's core business is providing telecommunication, cloud, and colocation services.
The companies that lag behind are mostly in markets, where fossil fuel is the main energy source. This includes Baidu, Alibaba, and Tencent. The US-based companies that have some catching-up to do include Amazon, with 17% Clean Energy Index; Microsoft, with 32%; and Oracle, with 8%.
source:
Greenpeace
via
BusinessInsider
Recommended Stories