Government bans South Korean telecoms from the Samsung Galaxy S5 launch party
6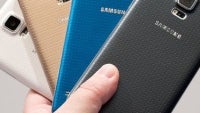 A particularly unfortunate timing willruin the Galaxy S5's April 11th launch party for South Korea's three major telecoms. Apparently, the local government is angry at SK Telecom,Korea Telecom (KT), and LG U+ for illegally subsiding smartphoneswith more than the limit of $249 (270 000 won) allows. To punish the misbehaving carriers,officials will enforce a country-wide ban, which will render themunable to sell or upgrade smartphones for different periods betweenMarch 13 and May 19. More precisely, SK Telecom will be off the gridbetween April 5 and May 19, KT will be banned from March 12 to April26, and LG U+, the smallest of the three, won't be sellingsmartphones between March 13 and April 4, and between April 27 andMay 18.
This arrangement puts the carriers inawkward positions, to say the least. SK Telecom and KT havecompletely lost the opportunity to benefit from early Galaxy S5sales, while LG U+ will have about two weeks to sell as much units asit can, before it's forced to close up shop until May. In themeantime, the three are expected to stock up on Samsung's flagship,which means the vendor will manage to move a respectable amount ofstock regardless of the situation.
Analyst Jeronimo Franco from IDCexpects that the punishment will only cause a short-term disturbancein the Galaxy S5's sales, and isn't likely to inflict unfair damageto Samsung, as smartphones from competing vendors won't be availableeither. He acknowledged that the Galaxy S5's postponed launch willimpact its momentum in South Korea, which is the fifth biggest marketfor Samsung, but doesn't think that the delay will reflect on theS5's overall success. Indeed, with the smartphone launching in 150countries, we're sure Sammy will have plenty of opportunities toboast about strong launch day sales.
source: TheGuardian