Google's latest Easter Egg will "zerg rush" your search results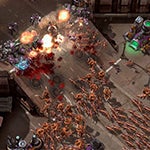 Any
Starcraft
fans out there? You apparently have a kindred spirit with some of the HTML 5 programmers at El Goog, as the latest Easter Egg to grace the search giant's website starts when you, erm, google the term "zerg rush". Upon hitting enter you are thrust into a game, as rushing Os attack and then blow up your search results. You can click on them with your mouse (or finger) to eliminate them, but ultimately you get overwhelmed by the unending onslaught of bloodthirsty letters.
It's a nice way to ensure this Friday is less productive than most, and Google tallies the number of kills you achieve and gives you a score at the end, which adds a bit of replay interest to it (aside from just amazing friends and family). Mobile users with HTML 5 compliant browsers aren't left out either, though you need to either select "request desktop site" from your options menu, or browse to the bottom of the Google results and switch the page to "classic view" for the magic to happen.
It's actually an interesting
test of browser prowess
– running the game side by side on Chrome for Android and the original Android 4.0 browser shows just how big of a speed gain Chrome has brought to the little green robot platform – the Os seemed lethargic on the original browser, and targeting seemed to be impacted as if the rendering engine was not keeping up with the target location.
Many of the current mobile browsers use WebKit, which should properly display the game as long as your CPU can keep up. One probable exception is Windows Phone, as the lack of HTML5 support in IE Mobile is a deal breaker.
Anyhow, what are you waiting for? Time's awasting on you time wasting adventure!