Google's chief economist sees tablets as profit center for newspapers
2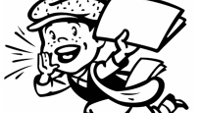 The popularity of the smartphone added insult to injury for the nation's daily newspapers. Seen as a dying industry with the evolution of the internet, the smartphone allowed news junkies to carry direct news feeds with them wherever they went, making the newspaper old and obsolete. And you would think that the tablet, with the same immediacy and mobility as a smartphone, but with an easier to read screen, would be another nail in the coffin of the daily newspaper. But Google chief economist Hal Varian believes that newspapers can actually turn around their long term decline by using these slates.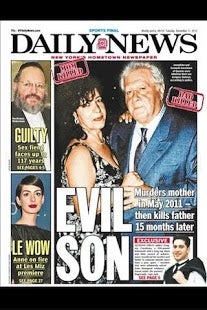 The digital edition of the New York Daily News offers a page-by-page perfect replica of the day's print edition
Varian compares tablets to newspapers and says the two are similar as leisure time reading material. He noted that tablets beat out smartphones and desktop PCs as the source for people to get the latest news during the morning and evenings. While physical newspapers are perused for about 25 minutes to read the latest news, tablet users in the U.S. and U.K. spend about 2 to 4 minutes on an online news site. Newspapers are making about one-eighth of their ad revenues from online ads.
Varian says that thanks to tablets, news readers are now reachable at times where they could not be reached before. But during those times, the tablet reader is not able to read in-depth stories which means less revenue from ad impressions. While the Pew Foundation recently found that 64% of tablet read the news on their slate, the trick for newpaper sites is to get fresh and interesting news to readers to keep them coming back to read more in-depth analysis later on in the day when they have more time.
The key for the survival of newspapers on tablets is timely and in-depth reporting. Returning to the numbers we mentioned before, newspapers are making one-eighth of their ad revenue online. Getting tablet owners to spend more than 2 to 4 minutes reading news sites on a tablet will lead to more clicking on ads and more revenue.
Another way for old-line newspaper groups to raise their online presence and revenue is to offer digital editions of their paper as an app. For example, the New York Daily News digital edition is a perfect page by page replica of the daily print edition down to the ads. Now, the local A&P isn't going to want to spend more money on an ad carried in the digital edition because a reader in Oshkosh is useless to them. But it could lead to some national accounts for the papers. Right now, after a 30 day trial, you need to pay for the digital edition of the Daily News. But it might serve newspaper publishers to push their circulation and offer these editions totally free to readers in perpetuity, and rake in the advertising dollars.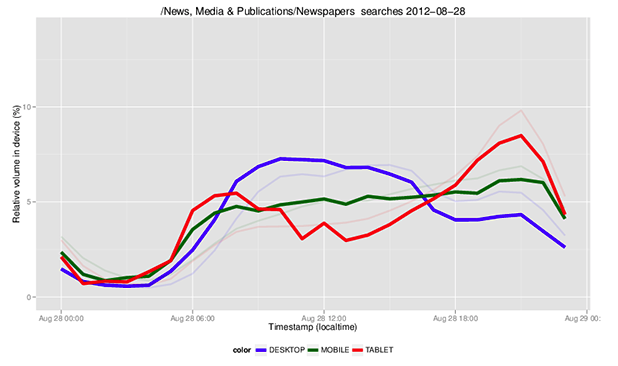 Tablet use for reading news generally peaks in the morning and evening as these search results show
source:
JournalismFestival
via
SlashGear