Google's chairman selling off more than 40% of holdings this year
22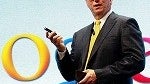 Valued at over $2.5 billion, Eric Schmidt will sell off nearly half of his holdings in the internet search giant this year.
In a filing made on Friday, Google noted that Mr. Schmidt will sell about 3.2 million shares of stock through 2013 in what has been termed as "a routine diversification of assets." Based on Friday's close of Google stock at $785 per share, that comes in a tad over $2.5 billion.
Google's executive chairman sold a bunch of stock during 2012 as well, raking in a little over $1 billion dollars in the process. With this year's sales, Schmidt will have reduced his holding in Google by more than half in just two years. Despite that, he will still own 1.3% of the company, and hold 5% voting power since some of his shares carry that weight.
For the naysayers that wonder about what Schmidt knows that we do not, he did not sell any stock from 2008 to 2010 and the company's share price has risen nearly 30% over the past year. It looks pretty clear that he is just cashing in some holdings for whatever purposes he deems fit. $3.5 billion-plus over a couple years, maybe he wants to put a pool in at the house or have some landscaping done…
source:
The Wall Street Journal
Recommended Stories