Google's Tim Porter discusses problems with patent law, accuses Microsoft of IP thuggery
20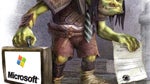 Tim Porter, Google's chief patent counsel, recently dished on how the company views patent law in an interview with the San Francisco Chronicle. Porter challenged the notion that the current state of patent lawsuits is inevitable, describing it competitors taking advantage of a broken system when they fail to compete in the open market.
Not surprisingly, Porter's harshest words were reserved for Microsoft, who has managed to extract patent settlements from
more than half
of all Android manufacturers to date. He pointed to Microsoft's lawsuits targeting the Linux ecosystem, suggesting that this is part of a historical pattern where Microsoft turns to litigation "When their products stop succeeding in the marketplace, when they get marginalized, as is happening now with Android, they use the large patent portfolio they've built up to get revenue from the success of other companies' products."
Porter says the greatest concern is that the current legal climate may lead to a dramatic reduction in innovation across the board, as companies spend more and more resources to try and defend existing products rather than investing in new ones. On that basis he advocates a strong overhaul to the current software patent system, asking for a return to "common sense" in the patent office, including a greater emphasis on not providing overly broad software patents for "something that's really an idea".
The interview also provided confirmation that an earlier transfer of patents from Google to HTC (which HTC then used to counter-sue Apple with) was part of Google's strategy to "aggressively defend the Android ecosystem".