Google's "These go to eleven" event: Live Coverage!
7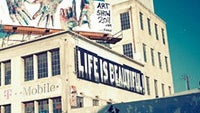 Welcome to our liveblog, dedicated to Google's "These go to eleven" event held today. What should we expect to see? Well, the invitation doesn't really say much, but of course, it does say "
These go to eleven
", which is what reveals the little info we have right now. Apparently, "These go to eleven" is a phrase from a 1984 movie called Spinal Tap, and means "to turn up the volume to the max". As you can imagine, this leads us to believe that the event will be centered around the
Google Music
offering, possibly bringing the rumored
Music Store
.
However, we shouldn't completely rule out some
Galaxy Nexus
-related news, as we also notice the T-Mobile logo making a sneaky appearance in the invitation. Whatever Google's going to announce, you'll learn all about it here - via the live tracker below, or via our special Twitter channel:
@PhoneArenaLive
.
Stay tuned to us as the event is scheduled to begin at 2PM PT | 4PM CT | 5PM ET!