Google's Nexus 5 wholesale price exceeds retail, UK retailers say
14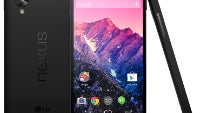 Google's Nexus line of contract-manufactured handsets, at least as of late, has become prominent thanks to a healthy mix of a great quality, high-performing handset that also carries a bargainious price tag.
Of course, things look a tad better than they really are in reality, and despite the truly awesome value proposition, the Nexus 4, for example, hasn't really sold in quantities that could rival the big boys from Samsung or Apple. The same is expected with the Nexus 5, though it'll likely sell better than its predecessor. The reason for this is quite simple: the Nexus 4 was sold exclusively through the few Play Stores around the globe, while retail availability was truly poor. The suspected reasons for this are many, including lack of supply, but also the fact that margins couldn't have been that high to begin with. This situation has been somewhat bettered, as Google has partnered with a number of retailers in order to have the Nexus 5 reach the four corners of the world. At a price.
According to British retailers talking to The Guardian, Google is actually undercutting wholesalers by as much as £50 ($80), making the purchase through a Play Store significantly more compelling. Resellers can turn to LG and buy the phone for around £350 ($563, consumer electronics are expensive in the UK), whereas the British Play Store offers the handset for £300 ($483). While availability has been expanded, the situation with pricing hasn't really changed since the Nexus 4, according to CCS Insight's Ben Wood:
"
We saw the same thing with the Nexus 4
," Wood explains. "
With the Nexus line, Google always goes for very aggressive pricing with its manufacturing partner
."
Wood also touches on the main driver behind the Nexus line:
"
Although it is unlikely Google would sell the Nexus 5 at a straight loss, it is highly likely that it would sell it at around cost or with very little margin
," Wood commented. "
Google will only sell around 1-2m Nexus 5s, but they will be bought by key people – Android evangelists, developers and influencers – spreading the Android brand
."
In other words, keep to the Play Store, folks. It's likely to save you a sizable chunk of cash.
Source:
The Guardian