Google's Matias Duarte is impressed with Facebook Home, takes a jab at OEMs
18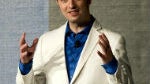 Facebook Home has gotten generally positive reviews from professional outlets, even if they always come with the caveat that not everyone likes Facebook to begin with. We've said that whether or not you like Facebook, the app itself is designed well, and
marks an interesting new
way for users to interact with their devices and with apps. And, it sounds like Android design guru Matias Duarte agrees with us.
The direct quote comes from Matias speaking to ABC News:
The new Facebook Home shows an incredible amount of polish and attention to design detail, and that didn't come from a hardware manufacturer. With the Home experience, they did a nice job expressing the Facebook experience, but so much of the Google design experience with Ice Cream Sandwich was in there as well.
Most interestingly about the comments from Matias is that while he praised Facebook, he also took a bit of a swipe at manufacturer UIs as well when he added the tag that the design "didn't come from a hardware manufacturer." That sounds like a jab at hardware manufacturers straying out of their lane to try making software changes to Android.