Google's Eric Schmidt wants in on the ground floor in Myanmar
12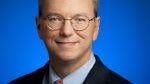 There are "emerging markets" and then there are "non-existent markets". Only the first category is useful to companies looking to expand, but until very recently Myanmar was in the second category. However, a relaxation of sanctions by Western countries has opened up Myanmar to business, and Google's Eric Schmidt wants to get in on the ground floor.
Myanmar has been a military dictatorship for decades, but in 2011 reforms began that removed the military rule and installed a "quasi-civilian government". A series of political and economic reforms have made Myanmar much more attractive to business. So, next week Google's Eric Schmidt will be traveling to the country to give a talk at a technology and communications park and meet with government officials.
Myanmar is planning to modernize its telecoms infrastructure partially by giving two operating licenses for companies to build new telecoms infrastructure. Once that is complete, it should be ready for companies like Google to move in and get smartphones into the hands of the people.