Google's Eric Schmidt gives you the how-to for switching from iPhone to Android
27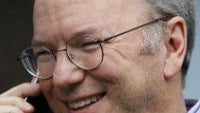 There are plenty of sources out there that will help walk you through in case you want to switch from one mobile platform to another; but today, Google's own Eric Schmidt took it upon himself to write his own how-to for switching from iPhone to Android (and obviously take some time to talk up Google's mobile platform at the same time).
Schmidt obviously started out the post by talking up Android, it's current set of flagships (though surprisingly he talked about the Motorola DROID Ultra rather than the Moto X), and market penetration. Then, he got down to business with about 900 words on what to do when moving over from iPhone to Android. He broke up his guide into four sections: Set up the Android phone, Update your iPhone or iPad, Connect your music to Google, and Swapping over the SIM card. He even added in two post-script sections about Photos and Chrome.
Oddly, he wrote the guide under the assumption that everyone with an iPhone also has a Mac, although the steps would likely translate just fine to Windows users. The guide is pretty solid, covering how to move over your contacts, set up your Google account, and find apps, but of course he also assumes that everyone uses Gmail as well. But, things like email are relatively easy anyway, since just about everyone uses a cloud service anyway.