Google's Android developers share the thought process that brought us Navigation Drawers (video)
4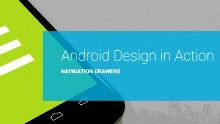 That handy Navigation Drawer you see in the YouTube and Google Play Books apps, for example, seems to be the pride and joy of the Android team, as devs there shared the design process in the cool video below.
The drawer has seemingly been conceived to avoid burying needed stuff in sublevels of menus, and still keep things looking good and hip, like what comes out when you swipe in the YouTube or Books app.
The whole bit is fascinating to watch - it is quite long, but if you have the faintest interest in developing for Android, or just soaking in an example how the Android kitchen cooks mind works, check it out.