Google's Android OS: Past, Present, and Future
81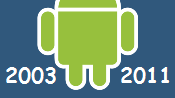 Thinking back, it's hard to believe that with so many Android phones on the market today, that the first version of the Android OS was released only 3 years ago, but the full story starts a few years earlier.
It all began in
October 2003
when Andy Rubin, Rich Miner, Nick Sears and Chris White founded
Android Inc.
in Palo Alto, California. Rubin was quoted by saying the purpose of Android was to allow "smarter mobile devices that are more aware of its owner's location and preferences", though at that time not much else was known about what type of phone software it would turn out to be.
Two years later,
Android Inc. was acquired by Google in 2005
(though the amount has never been disclosed) and became a wholly owned subsidiary, but key employees were kept during the acquisition. In the two years that followed, the first Android SDK Beta was released to developers and phone manufactures. This was based on the Linux kernel to allow a flexible and upgradeable system. During this time, Google also helped form the Open Handset Alliance, along with a dozen other software and hardware companies, with the purpose to develop open standards for mobile phones.
Then in
September 2008
, the
HTC Dream G1
was
released by T-Mobile
as the first device to run on the
Android 1.0
operating system, which brought us the Android Market, full HTML web browser, GMail and E-Mail connectivity, as well as Google Contacts, Calendar, Maps, Sync, Search, and Media Player. The HTC Dream G1 featured a 3.2" display with 480x320 resolution, sliding QWERTY keyboard, 528MHz processor, 192MB of RAM, and a 3.2MP autofocus camera.

In
February 2009
, the HTC Dream G1 was updated to Android 1.1, which added more details in Maps, a longer screen timeout in the dialer, and the ability to save message attachments.
By mid year, there was
Android 1.5 Cupcake
that added the all important desktop Widgets, on-screen keyboard, faster camera response with video recording, browser copy & paste, and being able to upload videos directly to YouTube. In September 2009,
Android 1.6 Donut
was released, though there was still only a handful of Android models on the market. Not only did it bring many bug fixes, but also expanded the Voice & Text Search capabilities to include bookmarks & history, contacts, the web, a new Text-to-Speech, support for WVGA displays, and also CDMA/EVDO cellular network support.
When
Android 2.0 Eclair
hit later in 2009, that's when things started to heat up. It was a more advanced and refined operating system, with updates to almost every aspect of the user interface, including multiple E-Mail accounts, Exchange support, new Browser interface, and Bluetooth 2.1 support. Not only that, but it is also when the original
Motorola DROID
came to the market from Verizon Wireless. The device featured a 3.7" display with 480x854 resolution, EVDO Rev A for data, sliding QWERTY keyboard, 600MHz processor, 5MP autofocus camera, Wi-Fi and Bluetooth. This is also when we started to see many more Android devices being manufactured and sold world-wide.
The next major release was
Android 2.2 Froyo
in the first half of 2010. This brought new internal optimizations to improve the overall speed, memory, and performance of the operating system. This, along with a new V8 JavaScript allowed the browser to work faster. We also saw an improved Application Launcher, more Widgets, USB tethering, Voice Dialing over Bluetooth, and Adobe Flash support in the Web Browser.
Later that year,
Android 2.3 Gingerbread
was announced, bring an updated user interface, support for larger and higher-resolution screens, improved power management, redesigned on-screen keyboard, enhanced copy/paste, support for Near Field Communications (NFC), audio effects in the music player, updated download manager, and support for more hardware sensors (gyroscope, barometer). It was then followed by service-updates to Android 2.3.3, 2.3.4 (voice/video chat in Google Talk), and 2.3.5 (for the Nexus S 4G).
Google has also spread its wings into the
Tablet market
as well. Even though there have been Tablets running Android 2.x since 2010, such as the
Samsung Galaxy Tab
, the new
Android 3.0 Honeycomb
operating system released in early 2011 is designed specifically for Tablets. The resigned holographic user interface still has an "Android feel" to it, and features a System Bar for accessing notifications, Action Bar, and Multitasking icon for bringing up a thumbnail view of open apps. There are also new desktop Widgets that were introduced in Honeycomb.
Android 2.3.x
Gingerbread is still the latest iteratio
n that is in currently available for Android smartphones today (mid-2011). Though the next version has already been announced:
Android Ice Cream Sandwich
, which is expected to combine elements of Gingerbread and Honeycomb together. Due for release later this year, little is know about it, but it will no longer require phones to have function buttons below the screen, as they will be on the bottom of the screen as icons (similar to how it is done in Honeycomb).
As of August 2011, Canalys research claims that
51.9 million Android devices
shipped just in second quarter of this year (five times that of Q2 2010), which now accounts for 48% of all smartphones shipped world-wide. In the U.S. alone, Nielsen Ratings research found that 39% of smartphones were Android, followed by Apple's iOS at 28% and RIM's BlackBerry OS at 20%.
Now to make things even more interesting,
Google announced
earlier this week that it is
positioning itself to purchase Motorola
for $12.5 billion. It is unclear what the future will bring from this alliance, but we're now more likely to see Nexus and DROID type devices being produced by them down the road. Not only that, but it positions Android to be an even more viable alternative to the Apple iPhone, RIM BlackBerry, and Microsoft Windows Phone.
Recommended Stories