Google throws a barb at Microsoft with the new "Gmail Blue"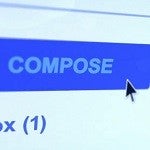 Sometimes material comes along where it describes itself perfectly, whether it is real or not. Google hits a homerun with this prank for sure, and frankly after watching a few times, we're still giggling ourselves silly.
It's all in good fun, but boy does Google let Microsoft have it, mercilessly. In all honesty, we would like to see the outtake reel of blunders since it is obvious that at a couple points you can tell the Google gang was having a hard time keeping a straight face. Just watch the video and enjoy your April 1st.
source:
Gmail
(Blue)