Google takes a couple swipes at iOS and its "old" new features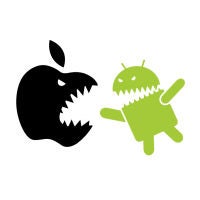 During Apple's WWDC keynote, CEO Tim Cook and company took a couple shots at Android, which is something that we have come to expect. What we didn't really expect was that Google would swing back during its Google I/O keynote today. Android chief Sundar Pichai didn't specifically call out Apple, but when he talked about Google Play services and feature innovation, it was hard to imagine he was talking about anyone else.
First, Pichai talked about Google Play services, and pointed out that the real power of Android (or Google's version at least) comes from that framework. Pichai noted that Google Play services is updated every six weeks, and it is automatically pushed out. He said that this means 93% of Android devices have the newest Google Play services, regardless of what version of the OS the device is running. Pichai said that this allows Google to "iterate faster than the typical OS release cycle", which seems like a veiled swipe at Apple always calling out Android's update numbers.
The more direct attack came with a slide labeled "Android Innovation", which showed various platform features throughout the history of Android. The graphic showed items like multitasking in Android 1.0, custom keyboards and widgets in Cupcake, battery stats by app in Gingerbread, interactive notifications in Jelly Bean (4.1), quick settings and gesture typing in Jelly Bean (
4.2
), and more. If the chart alone weren't enough of a slap in the face to Apple, Pichai said, "If you look at what other platforms are getting now, widgets, custom keyboards, many of these things came to Android four, maybe five years ago."
Ouch.
source: Google