Google sued over Play Store's return policy
31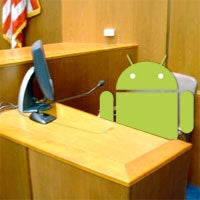 It has been over a year since Google adjusted its return policy, on the then Android Market, from 24 hours down to 15 minutes. While Google claims that most returns occurred within minutes under the old policy, there are many that say 15 minutes is far too small of a window.
Two of those users in particular are Dodd J. Harris and Stephen Sabatino. Harris and Sabatino are suing Google for "breach of the implied warranty of merchantability" and "violation of business and profession code for unfair and fraudulent business practices." This all stems from apps that were purchased that did not function properly and by the time they realized the issue was with the app, they were outside the 15-minute return period.
Back in December, Harris bought "Learn Chinese Mandarin Pro" for $4.83. He claims that it took him 20 minutes to figure out that the app did not function as advertised. Sabatino, on the other hand, purchased a BitTorrent client, aBTC, for $4.99 in January. He also claims that after using the app for an hour, he was unable to download a torrent. Both found themselves outside Google's 15 minute return window and ineligible for a refund.
Both users claim that Android users are being misled into thinking apps in the Play Store are in working order, compatible with all Android phones, and will function how they are advertised in the description. The suit cites that both Apple and Amazon do not allow apps into their respective app stores without testing them first. They are claiming that Google's neglect to do the same, while still collecting a 30% commission on sales, is negligent. Finally, they state that while Google is aware that many applications do not function or do not function as they are represented in the Google Play Store, Google makes it "almost impossible to return the application for a refund."
The pair is seeking damages for every resident in California who has purchased a defective Android app as well as attorney and legal fees.
source:
PaidContent
via
AndroidAuthority