Google signs deal with Oakley and Ray-Ban maker for Google Glass
17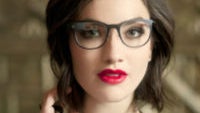 There have been rumors for quite a while about Google trying to make deals with high profile eyewear makers to form partnerships for Google Glass. We've already seen Google put out
its own Glass frames
. Today, Google has announced the first big one, a deal with Luxottica Group, which is the company that makes Oakley, Ray-Ban, Vogue eyewear and more.
Luxottica isn't just a high profile eyewear maker, it is the biggest eyewear manufacturer with about 12.4% of the market. Luxottica controls both LensCrafters and Sunglass Hut, which gives Google Glass potential for shelf space in over 5,000 retail stores. Google says about the company: "Luxottica understands how to build, distribute and sell great products that their clients and consumers love". Luxottica says that it intends to put out a collection that will "combine high-end technology with avant-garde design offering the best in style, quality, and performance."
Of course, the announcement of the deal doesn't mean that frames are on the way soon. Neither Google nor Luxottica has mentioned when we should be expecting frames designed for Glass, but the likeliest scenario is that the collection will be made available in time for the Google Glass consumer release, or at least relatively soon afterwards.
Recommended Stories