Google releases new Glass video, shows why it's perfect for the average person
10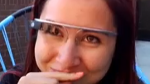 Unlike Google's previous videos showing off Google Glass, which
showed things like Glass wearers skydiving
, the latest video for the specs is much more, uh, down to earth. The video shows a few pals hanging around, asking unscripted questions of the Google Search app on the device, even requesting something as obscure as pictures of Richard Branson in drag.
The video showed twenty searches which included questions pertaining to foreign exchange, math and even the score of the San Francisco Giants' game against the Washington Nationals. And showing why Google Glass is the perfect accessory for the foreign traveler, a translation from English into Swedish is shown. And these Googlers are hip! Why there is even a reference to
Breaking Bad
thrown in.
What makes this video more appealing than some of the past ones is that this is the sort of activity you can see Glass wearers actually taking part in, goofing around and shooting the breeze. At the same time, there is plenty of useful information such as a flight schedule, navigation, and a weather forecast. Those who like the concept of Glass are going to love it while others will note that all of this information can already be found on their smartphone.
source:
Google
via
AllThingsD